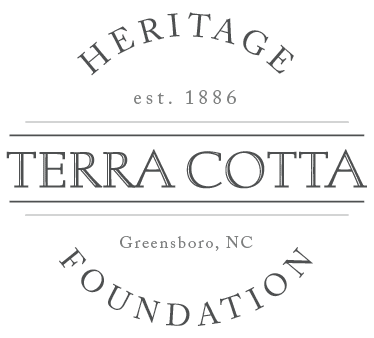 Pomona Manufacturing Company
the origins of the Terra Cotta community
The Terra Cotta community was originally a company town for workers of the Pomona Terra Cotta Manufacturing Company. Built in 1886, the company primarily produced terra cotta pipes used in sewage systems across North Carolina as well as products like roof tiles and chimney liners. Company towns like Terra Cotta were communities built around one employer who provided housing as well as shops and other amenities. The Terra Cotta community was primarily African-American families who moved to the area for the work. 
on 'The Job' and 'The Pines'
Initially, the housing had no electricity or running water, and relied on outside toilets. Workers were expected to pay rent and later, utilities. This led to many workers purchasing land from the company to build their own houses. This created 'the Pines' community, which referred to the individually owned tracts of land surrounded by pines, and 'the Job' community, which referred to the company-provided housing.
hear Dennis Waddell discuss the history of the plant and community
TCHF founder Dennis Waddell dives into the history of the Pomona Terra Cotta Manufacturing company and the origins of Terra Cotta company town. Waddell expands on the Boren family, the origins of the community name, and the effects of an explosion.
the unique nature of the Terra Cotta Community
This community was very tight-knit, and residents relied on each other to get through hardships and rough times. Many families stayed in the community for decades, and people within the community often married each other. In the 1940s and 50s, the community was at its peak, with approximately 500 residents. After a factory explosion in the 1960s, the plant shut down and the "Job" community was sold. Today, only a few streets of the original houses remain, and many families have relocated. The community ties to the area are strong, and this small company town has touched many lives. 
Up Next
What makes Terra Cotta so unique? The entire town was like one big family, and residents recall their favourite memories. Click below to read about the Terra Cotta Community.